What is Clear History?

Clear History is free and powerfull windows desktop application to clean search history from your computer. It is full featured program that greatly surpasses most commercial programs out there.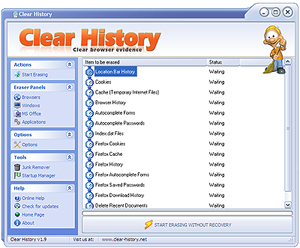 What does it clear :
Clear search history (browser history)
Clear typed URL-s (website address)
Clear location bar history ( option to exclude URL-s from clearing)
Clear cache (temporary internet files)
Clear cookies (with option to exclude some cookies from deleting)
Clear autocomplete forms and passwords
Clear index.dat files
Delete recent documents (in Windows)
Delete run history
Delete find computers history
Delete Windows temporary files
Delete Recycle Bin without recovery (shred it after deleting)
Clear clipboard (memory space reserved for copy/paste operations)
Clear Windows Open/Save dialog history
Clear tracks from Ms Office, Word, Excel, Access, Power Point and Front Page
Clear tracks from WinZip, WinRar, Windows Media Player, Wordpad, Media Player Classic
Junk Remover :
Clears obsolete and redundant files from your system
Choose drive to execute junk remover on
Choose to delete, move to specified folder or permanently (shred) junk files
Startup Manager :
VIew which programs are launched automatically with Windows
View detailed informations about those programs
Open target directory where startup programs reside or locate them in registry
Add, edit and delete startup programs
"Clear History" is made to help users protect their privacy. Although the author did his best
to make this application safe an reliable as possible he can not be held responsible by any
potential damage caused by using Clear History software. We hope you will find this software
useful, we would appreciate if you link to this web site

This software is clean, it contains NO spyware or other malicious code!